A Comprehensive Guide to a Talent Mapping Service
06 Nov, 2023
6 mins
In today's ever-evolving global business landscape, organisations face the constant challeng...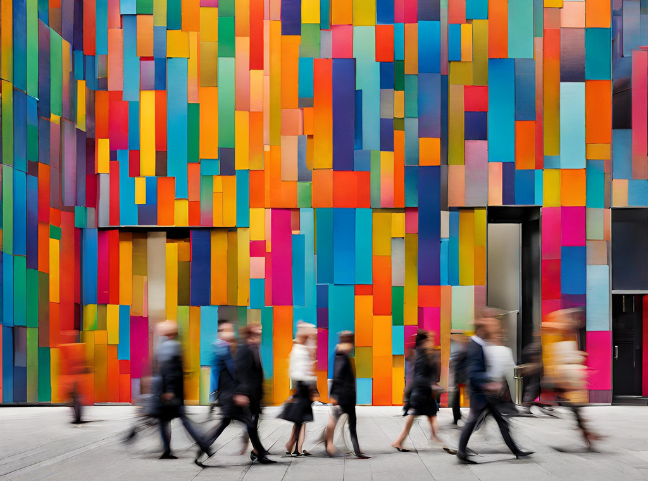 In today's ever-evolving global business landscape, organisations face the constant challenge of staying ahead in increasingly competitive markets. To succeed, businesses need influential leaders and a skilled, innovative workforce that can maximise performance.
Therefore, the ability to proactively identify and engage with top talent is crucial. This is where talent mapping, a strategic approach, comes into play. It empowers businesses to deeply understand their external talent landscape, an invaluable asset in today's talent-driven world.
Our comprehensive guide will first answer the crucial question - what is talent mapping? We'll then explore the key benefits a talent mapping service offers to organisations of all sizes, locations, and industries and what the talent mapping process looks like.
What is Talent Mapping?
Talent Mapping is the systematic identification of a group of individuals who fit a particular brief – be that a specific role, job family or persona. A Talent Map is the resulting list of names and profiles of those relevant people.
If you would like to learn more about Armstrong Craven's Talent Mapping service, then discover our insightful video:
Businesses worldwide have embraced talent mapping services to elevate their external talent strategies. So, what are the crucial benefits of talent mapping to your brand?
What is a Talent Mapping Service used for?
Talent Mapping has two main use cases:
As a sourcing tool to support Talent Acquisition and In-house Executive Search teams and enable them to proactively contact and engage relevant talent for open or future-focused roles.
To provide insight into the demographics of a particular talent pool.
Talent Mapping as a Sourcing Tool:
To help boost capacity and improve the efficiency of time-poor Talent Acquisition (TA) or In-house Executive Search teams, talent mapping provides a list of relevant individuals with the right backgrounds, skills and personas. TA teams can then proactively contact and engage the names on the talent map to generate interest in open roles or for any number of future-focussed reasons – succession planning, multiple hiring, investment hiring, new market entry, etc - this stage is known as Talent Pipelining.
Talent Mapping to Provide Insight:
Talent Maps are insight-rich, and businesses can use them in a variety of ways to gain insight into a particular market, job family, geography or even competitor set.
Typical questions that a Talent Mapping service can answer:
Where is the talent I need located?
How prevalent is the talent I need?
What are the role levellings in my competitor set?
How diverse is it? (what percentage is women, for example, or what percentage is from an underrepresented group?)
How educated is it?
Are there indicators as to how mobile the talent pool is?
What percentage of the talent pool has held roles in different countries in their career?
How often does it change jobs, and what is the average tenure in the role?
How are Talent Maps presented, and what data points are provided?
Talent Maps are often delivered in Excel so that they can be easily uploaded into a CRM. Data fields can be configured to align with your CRM. Filters can be applied to allow for easy data manipulation.
It is possible to capture a wide range of data points on a talent map, depending on your brief or need.
Typical data points include:
Name
Job Title
Current Company
Previous Company(ies)
Tenure in role/career
Location (city, country, region)
Publicly available contact details
Link to online social media profiles
Qualifications
Languages
Nationality
More detailed data points can include:
Indication of whether the talent is part of an underrepresented group (gender, ethnicity etc) to feed into your DE&I strategy.
Role-specific requirements: for example, evidence of transformation, M&A, product launch, or evidence of working with a particular technology or platform
Geographical scope
Evidence of global working / international assignments
Org structures of teams/companies
What is the Talent Mapping process?
A first-class Talent Mapping service goes way beyond looking on LinkedIn or similar business networking sites. A quality Talent Mapping provider will draw on an extensive combination of the latest technologies and proprietary development, searching across a wide range of online and digital resources, including press databases, market research databases, company registry databases, industry conferences, trade bodies and online business networking sites.
If required, it is also possible to actively source referrals and recommendations from the market.
Each profile that appears on a Talent Map should have been vetted with an expert eye and can be prioritised according to your needs.
What are the benefits of a Talent Mapping Service?
Now you have an understanding of what Talent Mapping is and what the Talent Mapping process looks like, we will next explore the key benefits that Talent Mapping can have for your organisation.
Gives your TA teams more capacity
Make them more efficient at targeting exactly the right talent profiles and help them become more self-sufficient, enabling you to save costs and reduce reliance on expensive agencies or search firms.
Targets Scarce talent
Look beyond the typical companies where this talent might be found to make sure you have overturned every stone possible.
Targets In-demand talent
When everybody is after the same talent, you need to make sure you have proactively identified all pockets of talent so that you have access to the widest possible net.
Targets Passive talent
Similarly to in-demand talent, if you are trying to attract notoriously passive talent, it can become a numbers game. Your TA team will need to reach out to far more people to generate interest in a role than in an active market, and so again, they will need access to the widest possible net.
Identify Talent from Underrepresented Groups
As part of your Diversity, Equity and Inclusion strategy (DE&I), talent mapping can help you be sure that you have identified all relevant talent in a given underrepresented group. Underrepresented groups will depend on the exact nature of your requirements and situation. It might be gender or, in the US, Latino/Hispanic talent. In some countries, it might be nationals, not ex-pats, to fulfill nationalisation criteria. Talent Mapping can also help you to identify overseas native talent (sometimes referred to as "boomerang talent") with a view to attracting them back to their native country.
What are the limitations of a Talent Mapping Service?
It is always important to remember that Talent Mapping can only provide a certain level of insight into a given market or talent pool. And it can't answer the "So What?" question. Because there is no physical engagement with individuals on a talent map at this stage, and no conversations will have taken place, it is not possible to ascertain:
Likelihood/ability to relocate
Timings for next career move
Behaviours and preferences
Opinion of your company and who else is rated in the market – how you stack up against your competitors
Skills, competencies and cultural fit
Salary and benefits expectations
The "So What?" factor:
For companies wishing to use Talent Mapping to answer deeper questions on the talent pool, competitors or markets, again, it is important to remember that Talent Mapping only gives a one-dimensional glimpse of a market. It might show you competitor org charts, but it can't tell you whether those org structures are successful, whether a company is about to restructure, or what the limitations are to that org structure. For this and other deeper questions, you can turn to Talent Insights.
Our Talent Mapping Service Success Stories
Discover how our Talent Mapping service has supported global businesses to elevate their talent strategies and shape their future.
Talent Mapping for a Global Biopharmaceutical Client
Explore how Armstrong Craven conducted extensive talent mapping across 11 global markets and targeted five key competitors to support our client in overcoming their challenge of swiftly securing critical talent for a series of significant oncology product launches.
"The candidates Armstrong Craven identified have highlighted profiles that we don't usually get to speak to, as we don't target the cohort very often."
Group Strategy Director at a Media and Entertainment organisation.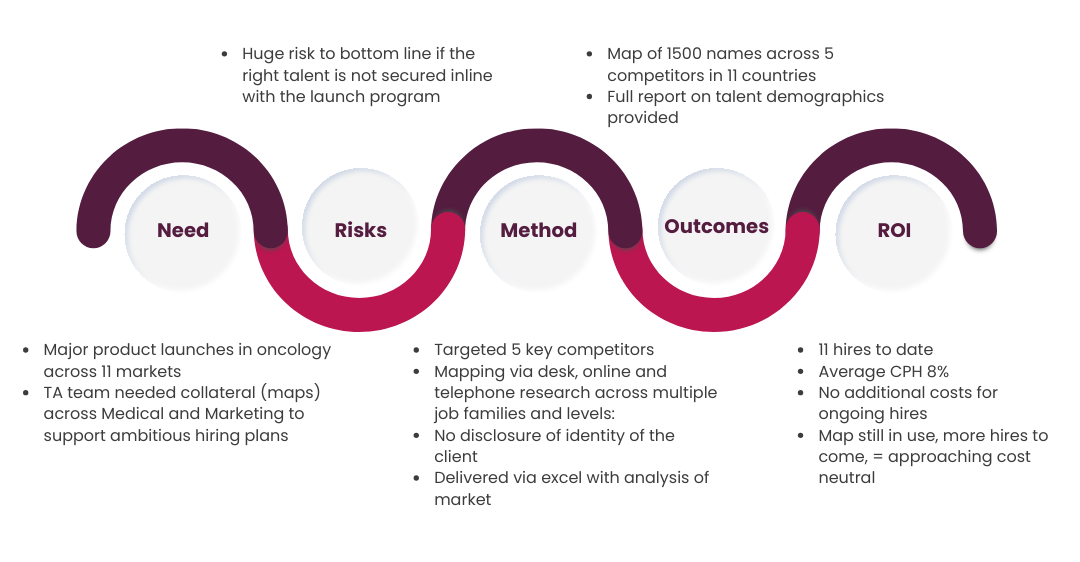 Reducing Executive Search Spend During Transformational Change
Discover how Armstrong Craven played a pivotal role in helping an organisation navigate a strategic shift toward becoming a global tech business. Learn how our expertise and partnership supported them in securing senior-level hires across various specialist disciplines and addressing their evolving hiring needs, ultimately contributing to their successful transformation. Discover more about how we reduced executive search spend here.
Discover How Our Talent Mapping Service Can Support Your Business
Armstrong Craven has over 30 years' experience of providing Talent Mapping services to a vast range of global businesses with a range of talent challenges and needs. We have access to over 40 different data sources as well as deep expertise in how to generate insight from industry referrals and recommendations.
We have a track record of working across multiple sectors and functions and have a deep understanding of how to translate a client brief into an accurate and actionable Talent Map.
For more information, visit our dedicated talent mapping service page or contact our team.