What Babcock learnt from the COVID crisis
23 Apr, 2021
6 min
Earlier this year, we spoke to Ali Gilani, Babcock's Group HR Director - Resourcing, Analyti...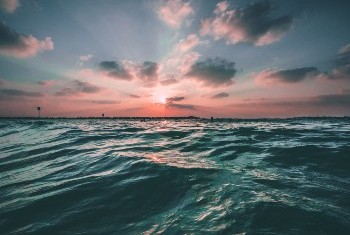 Earlier this year, we spoke to Ali Gilani, Babcock's Group HR Director - Resourcing, Analytics & Strategic Workforce Planning, to better understand the industry's talent acquisition issues and, crucially, how the Covid Crisis has affected Babcock and the engineering sector.
The impact of the global pandemic has been felt by all of us but most significantly by those working onsite in physical job roles. However, the COVID crisis has highlighted many positives for Babcock and the engineering industry as a collective. Indeed, remote working has helped reduce the number of barriers when attempting to attract new talent to remote locations and even challenging the perceptions associated with engineering roles.
Babcock have used remote working to emphasise that not every engineering role is physical or location-specific. Positions such as design and software engineers that work a healthy mixture of at-home and onsite are finally getting more widely noticed.
The Road to Recovery
Not all engineering roles or roles supporting Babcock's business functions need to be done onsite. For example, supporting roles in HR, finance, legal and procurement can all be conducted remotely. And this has had a positive impact on business.
"Not only are people able to work remotely, but they're actually productive and in some cases... more productive than when they come to the office!"
A recent Forbes article stated that production rates for workers who now work from home have increased by a whopping 47%! Alongside a 230% increase in telephone calls, 57% increase in emails and 9% increase in online work chat.
But the transition for many organisations hasn't been plain sailing. Especially in sectors such as engineering, where many businesses didn't have the technology infrastructure to support remote working, it required rapid deployment and tech investment.
And Babcock did just that, adapting their processes and switching to remote interviews for apprentice, graduate and senior engineering roles.
"I think this has been a real lesson for us as an organisation; we need to up our game by having better technology enablement, better collaborative tools, better video conferencing capability and higher bandwidth.
With the exception of a handful of jobs where we need to test people such as welding, we've done all our recruitment through video technology and not met face-to-face. We started investing much more in remote onboarding."
However, remote working does come with its issues, such as the potential for mental health decline due to decreased social interactions. We asked Babcock what they had learnt about tackling these concerns for remote workers:
"We've got to stop using the term 'Working from Home'. There are certain individuals, who may be living on their own, may struggle with mental health, and having that interaction that they would do at work, helps them. By saying to those people 'Work from Home', you're not really helping them.
We have to move towards work from anywhere or an agile working mentality rather than saying 'you have to be in the office or be at home'. Neither of those are flexible, nor agile."
It seems like a hybrid of remote working, and office-based working is a popular option amongst workers. According to new research by Eskenzi PR, 91% of employees said that they would prefer to have the opportunity to work remotely, with only 14% wanting to return to the office full time.
Furthermore, for careers such as engineering designers, these roles no longer require complete onsite working. The covid crisis has taught us that offsite and onsite hybrid working models can be highly beneficial for both employees and businesses.
"In engineering design, you still have the same issue in terms of not having the people in those locations. However, you don't necessarily need the people to be on-site 24/7 to do their work. For example, from a design perspective, what we can have is those people working remotely in locations where there is a higher concentration (of talent), or they can be working from home, or from a nearby Babcock office."
The implication for talent acquisition is access to a much broader talent pool. Therefore, hiring and finding talented individuals becomes more accessible by removing the barrier of enticing people to remote locations.
How are Babcock dealing with the challenges of traditional talent attraction?
The talent shortage across the engineering sector is widely recognised. Without a doubt, strategic workforce planning is essential, as attracting engineering talent is the main focus for hiring managers over the next five to ten years. There needs to be a long term strategy to attract new talent to the industry at a grassroots level, but even with a good talent retention strategy, a large portion of attrition occurs due to retirement.
"No matter how good you are at bringing more people into the industry, it's not going to solve the immediate challenge."
Indeed, assessment of internal staff can identify development opportunities and highlight individuals who may possess transferable skills that make them easy to upskill. To combat the low volume of engineering talent in the UK, HR leaders must take a closer look at upskilling the talent available.
"Take the fact we have an ageing workforce and a shortage of young people entering the industry. If we believe that we will replace all our attrition by going to the market and hiring capable, ready-made talent who can hit the ground running, we're mistaken. Or, it's going to be incredibly expensive."
Babcock has an attrition rate of less than 10%, which is very good, especially considering 50% of that is due to retirements. Ali reflected on the supply and demand curve for talent; it will be very high in terms of demand and very low in terms of supply. Some businesses aim to become the highest bidder for that supply, to manage the demand better. The risk is that in some places, the outcome is rapidly increasing salaries.
"The alternative is to become more self-sufficient and build your internal capability. By that, I don't necessarily mean only grads and apprentices. One of the big areas we're looking at is upskilling. So, for us, we need to be casting the net as wide as possible. Be it in terms of cross-training and developing people who don't have the necessary skill sets to be SQEP (Suitably Qualified and Experienced Personnel) on day one or going into the market and becoming a more attractive destination of choice for a wider diverse workforce."
Despite the Covid crisis, it was clear that Babcock, like many in the industry, is still facing many of the traditional challenges associated with attracting engineering talent. For example, the misconceptions of engineering as a career, an ageing demographic, enticing people to remote locations for physical engineering roles and the sheer lack of engineers in the UK.
Can CSR help Babcock attract future talent during a skills shortage?
Yes, but not on its own. Hitting CSR objectives means helping the community, and helping the community is attractive to prospective candidates. It's also a great way to improve business reach whilst helping the community thrive.
For example, Babcock's latest efforts focus on upskilling workers, many of whom already possess many transferable skills needed for an engineering role at Babcock and, therefore, take less time and resources to upskill than your typical apprentice.
"One of the pertinent examples one of my colleagues uses is the man in the yellow jacket stood at the side of the road to fix your car. He could be an RAC, AA or Green Flag mechanic doing the diagnostic mechanical activity at the side of the road in the pelting rain. Can we take someone like that, retrain them from being a car mechanic into a mechanical engineer for a boat or a ship, again over a 6,9 or 12-month period".
Often, the key to talent attraction lies in market mapping, looking at where the talent exists, how much of it there is, and the competition for that talent. But attracting these people means giving them better career opportunities and ensuring there is better capability to develop them into management. Career stability is critical, and for some people, it's almost a job for life. Organisations need to focus on their employer brand to be competitive through marketing and talent attraction strategies.
"Are we competitive in the market for the skillsets we're looking to hire? In addition to that, what are the career opportunities we're offering people when they join us to ensure they feel this is an organisation they want to stay at?
What we don't want is ending up in a position where we are just bidding for talent, and then once they come in, they do not see career development, and they leave anyway, so you end up with a revolving door."
However, Babcock emphasised that a collective approach from recruitment experts, engineering leaders and government departments is needed to tackle the vast shortage of engineers.
"There isn't a central coordination activity, and there isn't a government department. All of us are doing it in our little pockets, whereas I think we would get a lot more success if this were coordinated and done collectively."
Indeed, it seems that to combat the lack of qualified engineers currently in the UK, we need a collective approach that educates and challenges the traditional perceptions of 'engineers'. This will help get more people involved or upskilled into a great career.
Our conversations with Babcock's Ali Gilani have covered the challenges facing the engineering sector and lessons all businesses can learn from the pandemic. If you're looking for talent intelligence services in any industry, we are here to help. Speak to our team; we'd be happy to discuss how we can help you overcome your talent acquisition challenges.