Addressing the Gender Imbalance in Tech
There's a shift underway - corporate gender diversity conversations have progressed from how to increase the number of females in historically male-dominated functions/industries to how to achieve true gender parity at every level of organisations. There's a long way to go.
There's a shift underway - corporate gender diversity conversations have progressed from how to increase the number of females in historically male-dominated functions/industries to how to achieve true gender parity at every level of organisations. There's a long way to go.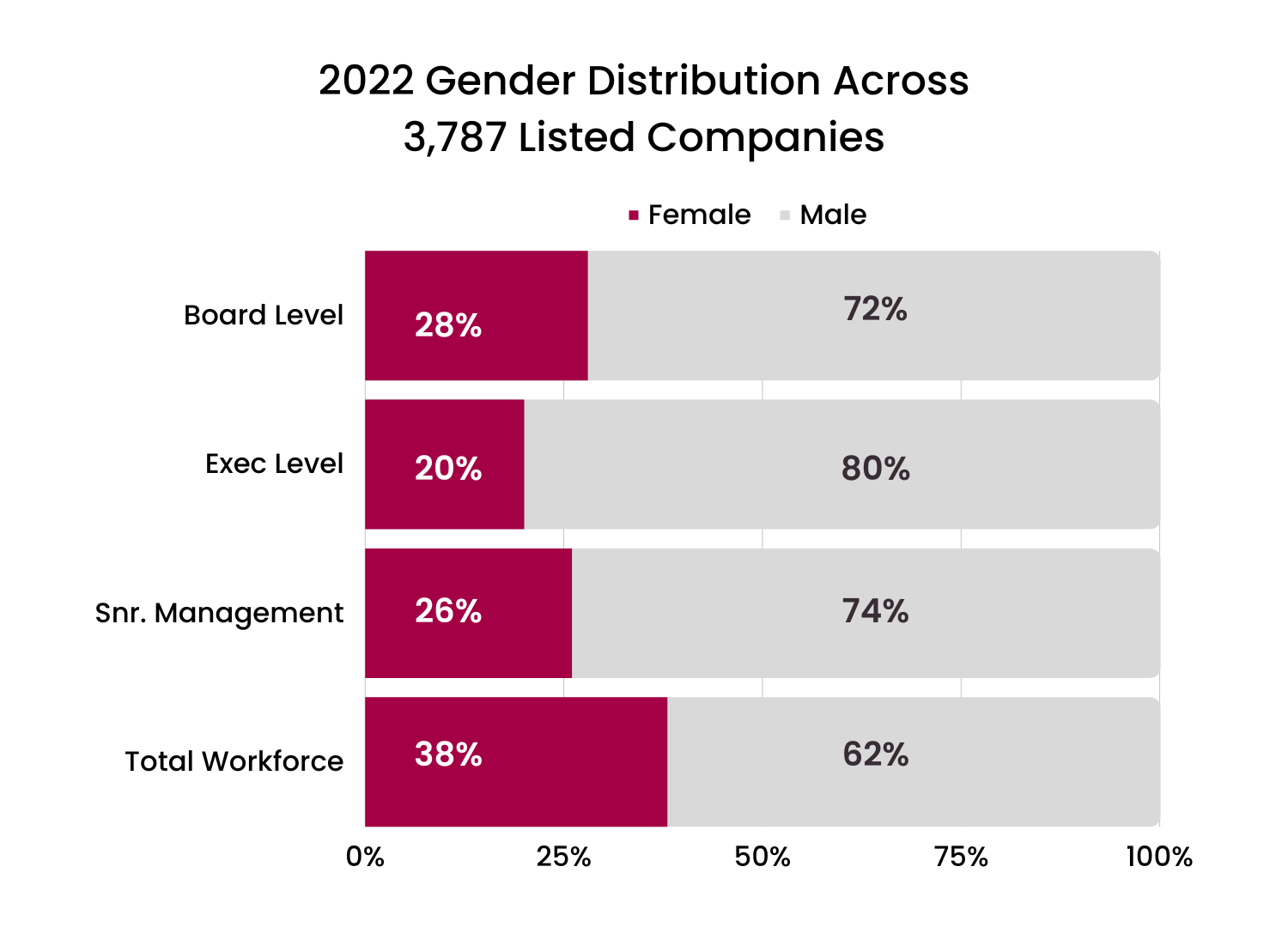 *Data from Equileap Global Report 2023. They researched 3,787 companies listed on a major index or in one of 23 developed markets. Each of these companies had a market capitalisation of USD 2 billion; these companies represent 102 million employees globally.
In the UK, there are indicators of movement at Board level with the FTSE Women Leaders Review 2023 report illustrating that FTSE 350 companies have met the (voluntary) 40% target for Women on Boards three years ahead of target; female representation on FTSE 350 boards is now 40.2% up from 9.5% in 2011. There are still big leaps to be made in senior leadership - currently only 27% of FTSE 350 executive committees and their direct reports are female. Any positive progress at the senior level is worth celebrating; women now have sight of career paths that were barely visible only ten years ago.

At the same time, there are a multitude of initiatives encouraging new generations of females to study STEM subjects and venture into historically male-dominated industries. It's clear, however, that the latter approach will take time to bear fruit.

What can companies do now to address the gender imbalance in the 'marzipan' layer of their organisations? As the global labour market remains tight, particularly for technical skills, building a better understanding of what experienced, mid-career females actually want from their careers, their employers and their working environments can help companies differentiate their employment offering.

At Armstrong Craven, we've been helping clients understand external talent markets for over 30 years.

Background & Scope
Following a successful growth period, a leading online retailer was looking to hire 100+ IT and technical staff across two of its UK offices. At that time they employed over 400 in-house engineers across more than 60 teams, serving millions of customers around the globe. They recognised this was an opportunity to address the existing gender imbalance in this part of the organisation whilst enabling them to leverage their inclusive culture and better represent the diversity of their customers.
They identified several key roles in:

Software Engineering
DevOps
Quality Assurance
Solution Architecture
Data Science
They asked Armstrong Craven to support them in gathering insights from the best female talent with these skills in order to establish themselves as a leading employer of choice.
The Approach
Our Talent Insight expertise means we were able to engage talent in confidential conversations to give our client a unique understanding of the behaviours and motivations of people with in-demand skills allowing them to work out how to differentiate themselves from competitors. As a third party, we gathered sensitive and unbiased information whilst protecting the reputation of our client and the privacy of the individuals we spoke to. We report and process data in accordance with GDPR and with the legitimate aim of correcting underrepresentation to support business performance.
We began by mapping female technical talent across two major UK cities. In one, the focus was on comparable industries, whereas in the other the search was role-based, given the smaller talent pool.
For each individual, Armstrong Craven highlighted information of interest on a Talent Map. Targeted interviews were carried out with relevant individuals within the talent pools in each location, exploring the following themes:
Motivators and attractors
Competitor insight, including employers of choice, any negative perceptions of employers, retention strategies and current recruitment activity in the market
Perceptions of our client
The impact of the COVID-19 pandemic on remote working
Insight into diverse hiring processes and other corporate diversity initiatives
Preferred recruitment channels
Frequency of approach in the market
Salary information where happy to divulge
The Outcome
Our Talent Insight Report provided the client with the key information needed to position themselves as an employer of choice, as well as practical recommendations about how best to attract, recruit and retain these female technical professionals.
We gathered insight from both passive talent and active job-seekers; the data clarified how in demand this talent cohort was: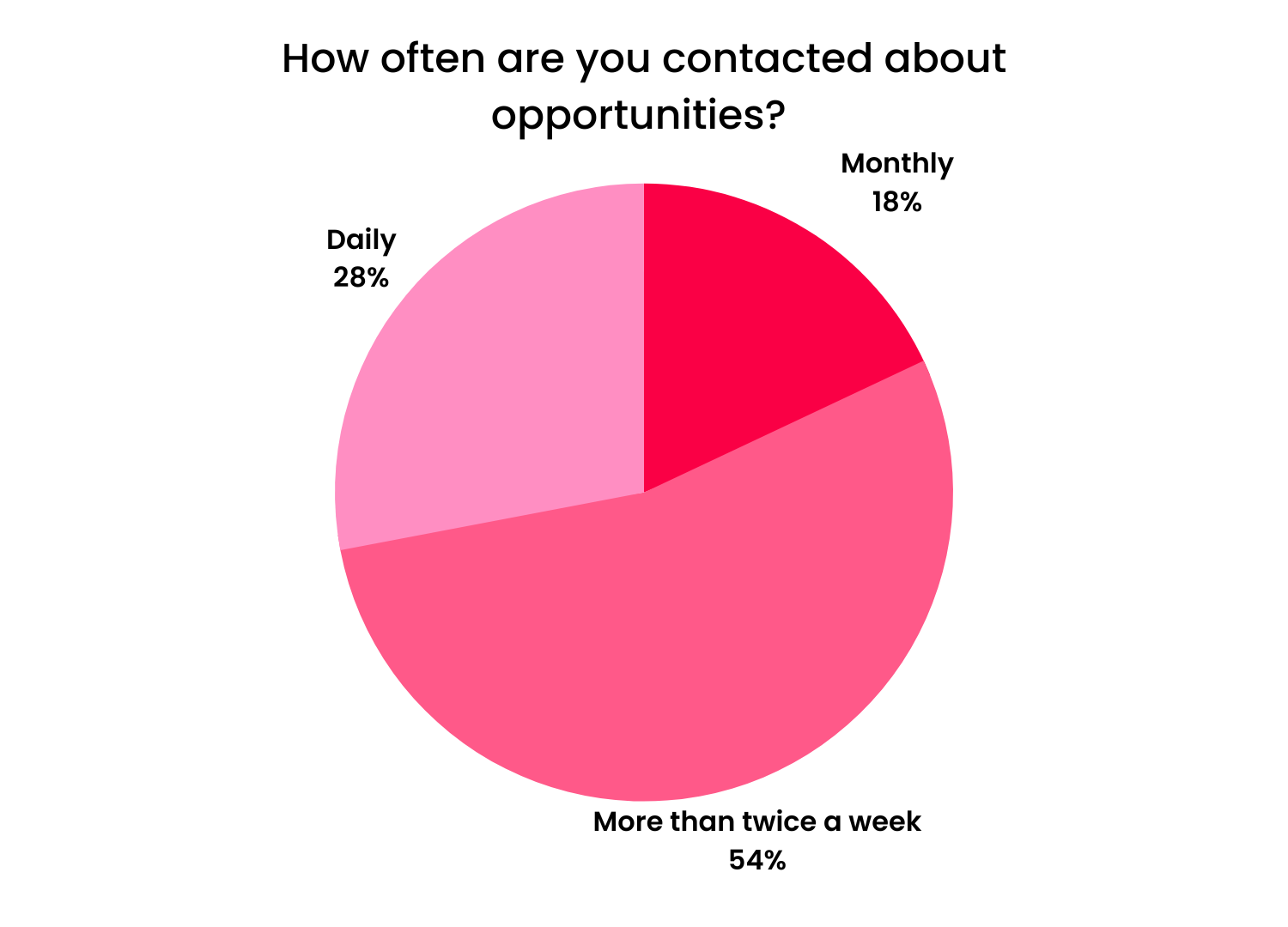 Key factors impacting employer brand
Our report included both quantitative and qualitative insight, not only identifying trends but bringing the findings to life to understand the nuances and enable better decision-making.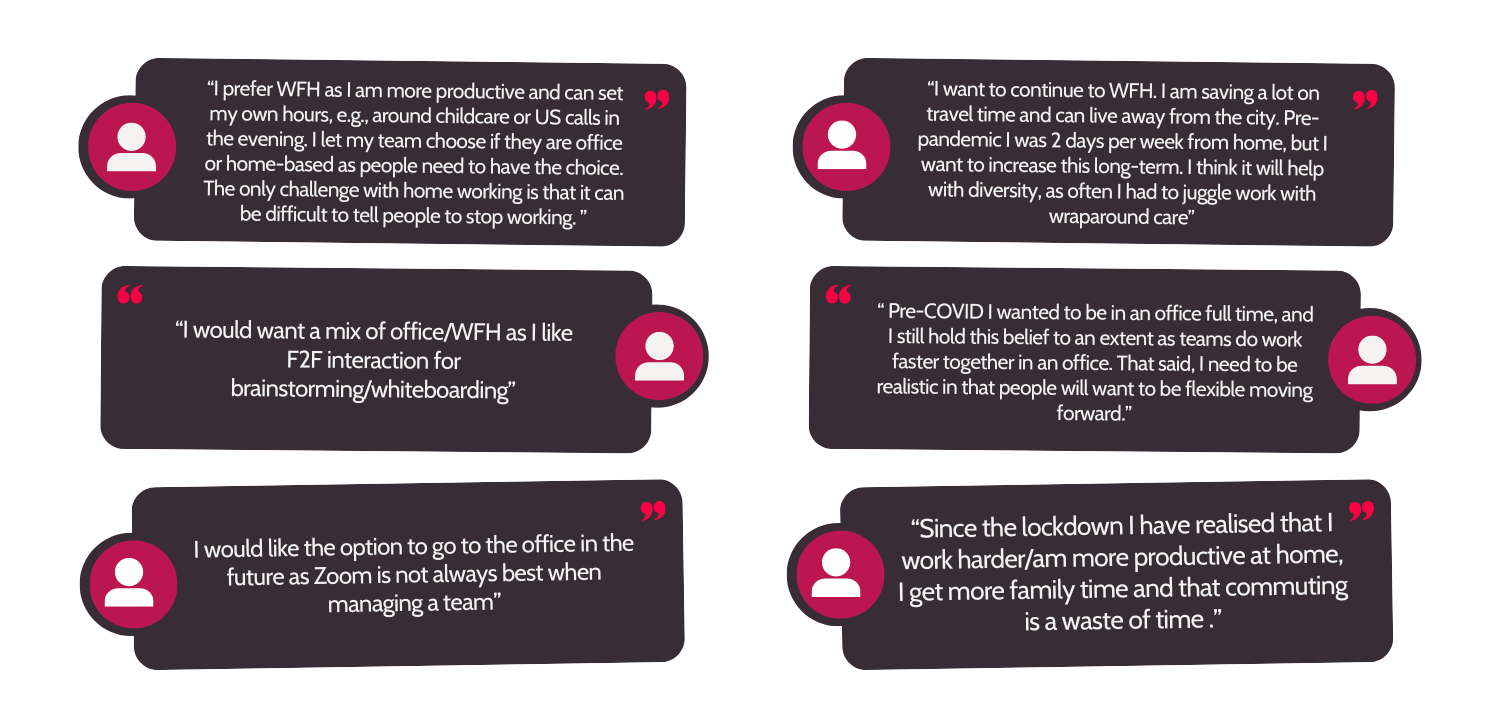 Everyone we engaged with was interested in hearing more about current or future opportunities with our client, however there were some interesting findings when we asked about their perceptions of the organisation:
Positive


Could Be Improved


Cutting-edge technology
Profitable despite adverse external conditions
Perceived as having a good culture

Candidate experience
Low visibility as an employer in one of the locations
Our client has since used our talent insight to build upon the following:
Training existing female technical staff to host interviews; external female talent fed back most technical interviews are led by men, and they would like a more female-friendly hiring process
Reviewing the language they use in their job advertisements to ensure inclusivity
Working with their own employer branding team to continue to differentiate themselves from negative associations related to their industry
Highlighting progression opportunities
Improving their application process and raising the visibility of their employer brand across all of their locations
In addition, our client received a Talent Map of 745 female professionals aligned to the job families of their key roles. They own all this data, enabling their internal recruitment team to begin building relationships, developing a pipeline of technical female talent for both current and future opportunities.
We are a specialist Diversity partner to many of our clients, delivering 500+ projects each year to our global Fortune 500 and FTSE clients. If you would like to know more about our talent sourcing, insights, mapping and pipelining services, please contact our team today.